Wok induction hobs
The wok induction hobs are suitable for all types of cooking, such as frying, stewing and quickly heating up vegetables, pasta or rice. They are produced using an innovative technology which ensures consistent energy savings, excellent performance and better working conditions than traditional cooking systems. In addition to having an attractive design, the wok hobs are extremely efficient, fast and safe. Cleaning is also quick and easy because simply wiping with a sponge will make the wok return to its original clean state. The appliance is managed by the operator via the special control knob located at the end of the worktop, which has been turned and is made of AISI 304 stainless steel.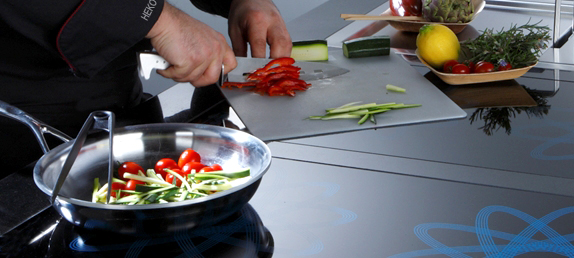 Safety, practicality and cleaning
Induction hobs are by far the safest types of hobs. There are no open flames and above all, the glass-ceramic top always remains cold. An automatic cookware detection system prevents the hob from turning on if the pan has not been placed in the cooking area. Heko induction hobs are extremely practical to use and clean. Any food spills which occur during cooking can immediately be removed with a damp cloth as the glass-ceramic top remains cold. Food residues do not char so less unpleasant smells and smoke are produced.
How they work
The induction hobs consist of a glass-ceramic supporting surface that is recessed level with the worktop. The coils are located underneath this and when activated, they generate an electromagnetic field.
When a pot is placed on top of the glass-ceramic top, the coil instantaneously activates and starts to transmit heat directly underneath the pan.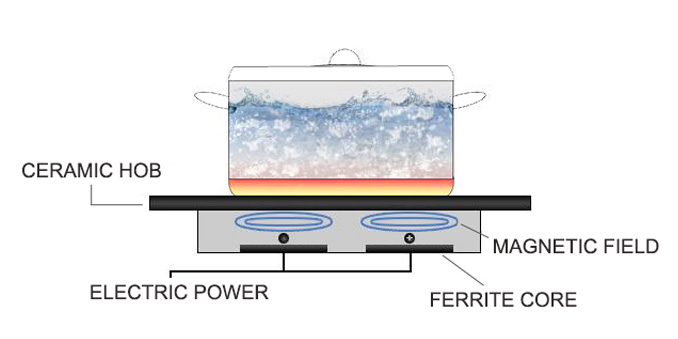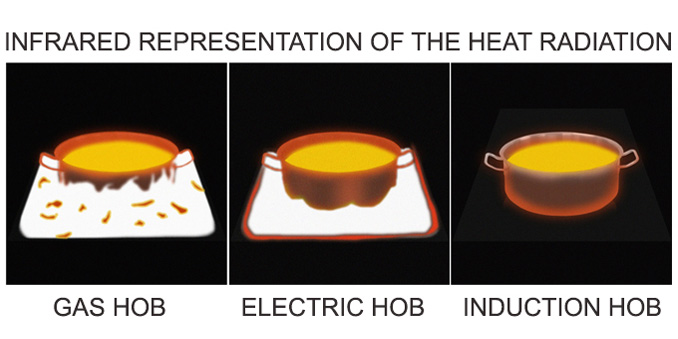 The advantages
In traditional electric or gas hobs, the heat is produced by a source (burners, resistors etc.) and only after, is it conductively transmitted to the cookware. This means that a portion of the energy theoretically required for cooking, is instead dispersed into the environment.
By contrast, induction has a minimal dispersion rate and an extremely high performance: an average of 90%, with peaks of 97%.
Thanks to this technology, waste is almost non-existent and consumptions are optimised. The energy required is only the amount actually used for cooking and the hob stops producing heat and automatically switches off as soon as the pots are removed.